St Louis Roofing Services
Hail and Storm Damage
Spotting hail and storm damage is a more difficult task than most would think. Repairing or replacing a hail-damaged roof is even more of a challenge. The good thing for you is B-Raines specializes in repairing hail damaged roofs in St. Louis. We can walk you through the process of identifying hail damage, contacting your insurance company, and replacing your roof. And if in fact your roof damage was caused by hail or a storm all you will have to pay is your insurance deductible!
Got Hail and Storm damage? Call us today!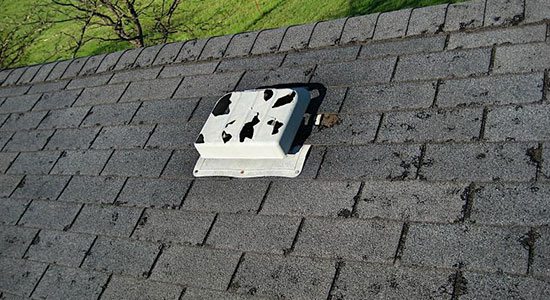 General Replacement
Have sections of a roof that need repair, but overall your roof is in good shape? Some people may try and fix their leaking roof by patching it up but honestly, it should be repaired correctly or you could end up with much bigger problems in the future. We here at B-Raines can take on your roofing repairs quickly and reasonably. Don't worry about how much damage has been done and what needs to be repaired. B-Raines experts can identify all the information you need and help you choose from a wide variety of roofs.
Need your roof replaced? Call us today!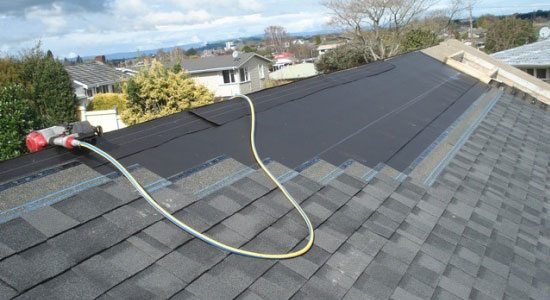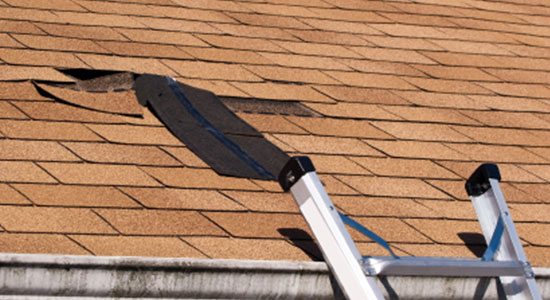 ---
Types of Roofing Available
Shingle Roofs
Asphalt Shingle roofs are by far the most common in St. Louis. Typically in a shade of gray or black, shingles roofs consists of overlapping flat rectangular pieces laid from the bottom edges up. Shingle roofs are generally the most affordable, but do come with a downside since they are known to wear faster than other roofing materials. B-Raines carries a vast selection of shingle roofs in many different styles and colors. We can either completely replace your shingle roof or make repairs as needed.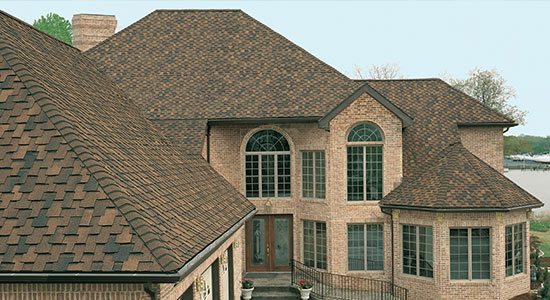 Tile Roofs
Tile is a high quality and long-lasting roof. They are "hung" from the framework usually in parallel rows, overlapping each other. Tile roofs are usually in a shade of red or brown and are known to save people money because of their heavy-duty reputation. B-Raines offers many shapes, fittings, sizes, colors, textures, and surfaces to choose from. We can either install a tile roof or simply replace any damages.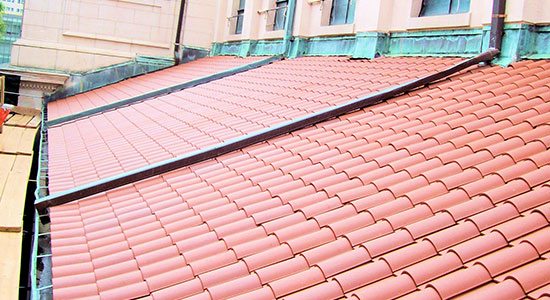 Slate Roofs
Slate roofs are best known for their appearance. They have a certain natural texture and are a high-quality stone. Slate roofs are completely fireproof and are environmentally friendly. They are affordable and can last up to 100 years or more. B-Raines carries them in a variety of colors, sizes, and thicknesses. We can either replace your slate roof or repair any damages.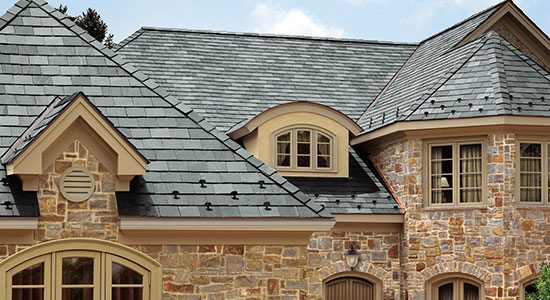 Copper
Copper gives your roof character and durability. Its bronze shade can bring beauty to any roof style. The material makes it easy to handle and can form over any structure. Copper is lightweight, can withstand any climate, and is affordable. B-Raines can either install new copper or repair old damage to your copper roofing.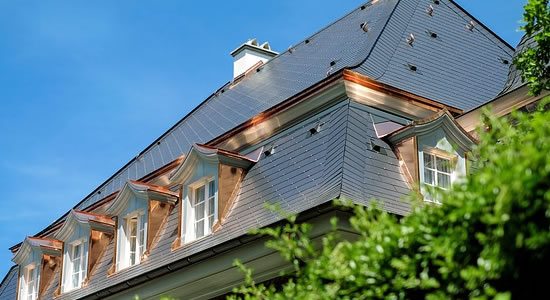 ---
Roofing Brands Available
CERTAINTEED® Roofing Shingles
CERTAINTEED For homeowners seeking true peace of mind, Landmark® shingles are the high-quality, reliable choice for beautifying and protecting a home. With a dual-layered design that emulates the dimensionality of true wood shake, Landmark asphalt shingles offer the heaviest weight and widest array of color options in their class, allowing you to create or re-create the ideal look for your home with confidence. Backed by a 100+ year legacy of trusted manufacturing performance, all Landmark shingles include CertainTeed's industry-leading, lifetime-limited warranty.
Certified as meeting the industry's toughest third-party (UL) manufacturing quality standards
Dual-layered construction provides extra protection from the elements
Ten-year StreakFighter® algae-resistance warranty
Class A fire-resistance rating
GAF® Roofing Shingles
GAF is North America's largest manufacturer of residential and commercial roofing products. Professional installers have long preferred the rugged, dependable performance that only a GAF roof can offer, and have made Timberline® Advanced Protection™ shingle — the #1-selling shingle in North America!
IKO™ Roofing Shingles
IKO manufactures quality asphalt and bituminous shingles in many popular styles and colors. IKO Cambridge 30 shingles are the first in the asphalt roofing industry to receive independent verification of recycled content from the prestigious Scientific Certification Systems Organization. IKO is a family-owned company that has b – IKOlogosmalleen committed to manufacturing quality residential and commercial roofing products since 1951.
Hilltop//Slate
Established in 1948, Hilltop//Slate is a quarrier and producer of high-quality natural slate for roofing and architectural applications. As a building product, Hilltop//Slate satisfies a host of internal and external applications in roofing, flooring, paving, as well as landscaping products. From their quarries in Vermont and New York, they provide the quality and choice to inspire designers the world over. Hilltop//Slate uses only natural material extracted from some of the world's finest deposits. There is a choice of ten colors that are further complimented by the distinctive natural texture of slate, creating an added dimension to any application. A variety of colors, sizes, and thicknesses can be used to create a pattern or subtle contrast in design.
Greenstone Slate®
Greenstone Slate® has been a leader in crafting Vermont Architectural Roofing Slate for well over half a century and has shipped products nationwide for residential and institutional slate projects. High-quality stone is just the beginning, however. Their stone is worked only by Greenstone trained craftsmen. Their production facilities are constantly updated and expanded. This has lead Greenstone Slate® to become a principal producer of colored slate roofing.
Ludowici Roof Tile™
Ludowici™ is considered the "Cadillac" of tiles. Its legacy began over four hundred years ago in Italy where rich clay born from the earth was combined with water, carefully shaped into roof tile, and colored by skilled craftsmen. The Tiles were then fired, vitrifying them into durable, strong, virtually impermeable works of art. Known for their beautiful shapes and hues, Ludowici™ tiles were shipped across Europe, ultimately gracing some of the most significant historical, cultural and political structures created by man. Today an American-based company in continuous production since 1888, Ludowici™ remains synonymous with the finest clay roof available. The combination of hand-crafted artistry and high-technology firing procedures has made Ludowici™ roofs beautiful and sound, frequently lasting over a century. No other clay tile manufacturer offers more shapes, fittings, sizes, colors, textures, and surface treatments than Ludowici™.
---
With all the different selections of colors and styles of roofing, we are sure to find the perfect fit for your project. Our experienced staff will assist you through the entire process of repairing or replacing your roof.